Dental Implants – Chesapeake, VA
We Can Complete Your Smile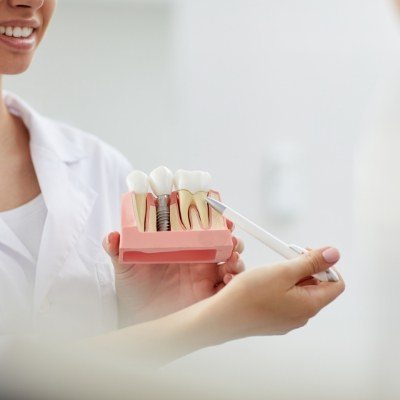 Do you need to replace one or more missing teeth? Achieving a full smile is possible with dental implants in Chesapeake, VA. Dr. Lucia Troisi is able to offer advanced restorative care to rebuild a functional, beautiful smile. You can achieve results that look and feel natural from one dental office. Unlike most dental offices, we can complete every step of the dental implant process under one roof instead of referring you to an outside specialist. No matter if you are missing a single tooth, multiple teeth, or an entire arch, we have the solution for you. Call us today to begin your journey to a full and complete smile!
Why Choose Troisi Dentistry for Dental Implants?
Dental Implants Placed & Restored In-House
Dentist with Years of Experience
3D Cone Beam Scanner for Precise Implant Placement
What Are Dental Implants?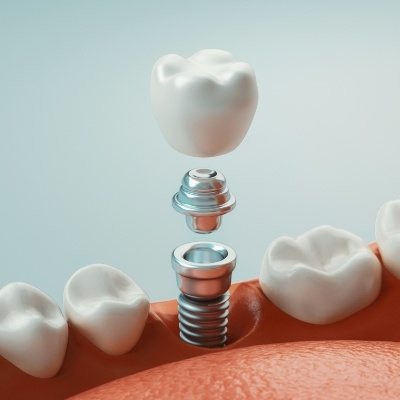 A dental implant is a small biocompatible post that replaces the entire structure of the tooth. An implant post is surgically placed into the jawbone to act as a new root. Once the implant has fused with the existing jawbone, a metal connector piece called an abutment is attached to the implant. The abutment can then be used to support a custom-made restoration, which is carefully crafted to match your natural teeth.
Because dental implants are the only solution to mimic natural tooth roots, they provide a much more stable and secure foundation for your new teeth than dentures or bridges alone. They also eventually become one with your jawbone, allowing them to last for decades or even a lifetime with the right care. That's why the vast majority of dentists, ours included, believe that dental implants are the best tooth replacement option for most patients.
The 4-Step Dental Implant Process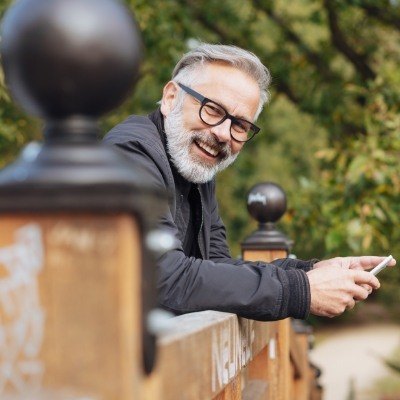 Getting dental implants can take several months to a year or more, but the benefits this solution offers makes it well worth the wait. At Troisi Dentistry, we are able to perform every step under one roof. Everyone's dental implant journey differs slightly, but the four basic steps are:
Initial dental implant consultation – We'll examine your smile and determine whether you need preliminary procedures before implants.
Dental implant surgery – Our dentists strategically place your implants in your jaw.
Dental implant osseointegration/abutment – Over the next few months, the implants fuse with your jawbone, a process called osseointegration. Then, we place your abutments.
Delivery of dental implant restorations – After you've finished healing, we can place your custom crown, bridge, or denture.
Initial Dental Implant Consultation
To start your dental implant journey, you'll sit down with Dr. Lucia Troisi to discuss the process. The first step will require her to examine your mouth to determine if you have enough bone density in your jaw. This is important because the implant will need strong bone to provide a solid foundation. If it is discovered that you need a bone graft or sinus lift to strengthen your jawbone, this will be completed prior to having your dental implants put into place.
Dental Implant Surgery
Once you've been given the green light to move forward with the surgery, Dr. Troisi will make a small incision in your gums. Depending on the number of implants you need, it may be necessary for her to make more than one incision. After exposing your jawbone, she will drill a small hole for the implant.
Remember, prior to the start of any procedure, we will administer the appropriate anesthesia to make sure you are completely comfortable and at ease.
Dental Implant Osseointegration/ Abutment
Once your implants are securely in place, it will require several months of healing before we can move on to the next phase of dental implant placement. You will spend the next three to six months allowing the titanium implant to fuse to your jawbone. This will create the stability needed to keep your new teeth in place for decades or a lifetime.
During this time, you'll have a temporary crown placed on top of your implant that will help you maintain your appearance. As soon as Dr. Troisi feels confident that the healing phase is complete, she will attach abutments to your implants, which will serve to connect the permanent crown. If you are missing more than one tooth, the abutment will also connect a bridge or denture.
Delivery of Dental Implant Restorations
The final phase of dental implant placement is securing the restoration. Whether you're receiving a crown, bridge, or denture, these are customized to match your smile, making it almost impossible for anyone to notice a difference. It will blend seamlessly, and once again, you'll have a fully restored, complete smile you can feel confident about for years to come.
Benefits of Dental Implants
Dental implants are considered the absolute best form of tooth replacement — and for good reason. Because they replace both the roots and crowns of lost teeth, they offer benefits that alternative treatments simply cannot measure up to. They offer advantages for everyday living, can improve your health, and may serve you well for many decades. Let's talk more about some of the remarkable perks they offer.
Day-to-Day Benefits
It is estimated that roughly one-third of denture wearers believe their dentures limit their ability to live life to the fullest. If that is true of you, dental implants in Chesapeake could be a game changer. Some of the day-to-day benefits they offer include:
The freedom to eat what you want – Dental implants are sturdy enough to stand up to foods that regular dentures cannot handle, including chewy and tough foods. You will not even have to take any special precautions while you are eating.
A confident smile – Implant-supported prosthetics are custom designed for each patient. The size, shape, and color of your new teeth will all be tailored to complement your unique face and oral anatomy.
Clear speech – Traditional dentures may slip in your mouth while you are speaking, but dental implants won't do that. Whether you are chatting with friends or giving a presentation at work, you can be confident that your words will come across clearly.
Easy maintenance – In many ways, caring for dental implants is similar to caring for natural teeth. Diligent oral hygiene and regular dental visits are both essential.
Health Benefits
The benefits of dental implants in Chesapeake extend beyond lifestyle advantages. There are several serious diseases that are correlated with tooth loss, including cardiovascular disease and diabetes. Some research even suggests that tooth loss could lead to a shorter lifespan! Because dental implants are the next best thing to natural teeth, it is reasonable to think that they could help to mitigate some of these risks.
Additionally, dental implants are wonderful for oral health. For example, they stimulate the jawbone and prevent the bone loss that is a normal consequence of missing teeth. Also, since they are self-supporting, they usually do not require that any of the remaining natural teeth be modified or extracted. That is in contrast to traditional bridges, which require that the supporting teeth (the abutment teeth) be significantly filed down in order to accommodate the prosthetic.
Long-Term Benefits
Traditional dentures may last for just 5 – 10 years before they need to be replaced. A traditional bridge might endure for 10 years or longer. Dental implants, on the other hand, commonly last for 30 years or longer. In fact, they could easily serve you well for the rest of your life. They can thus enable you to spend less time in your dentist's office, and they can save you money in the long run.
Are you ready to learn how dental implants may be able to benefit you personally? Dr. Lucia Troisi is ready to answer all of your questions!
Who Dental Implants Can Help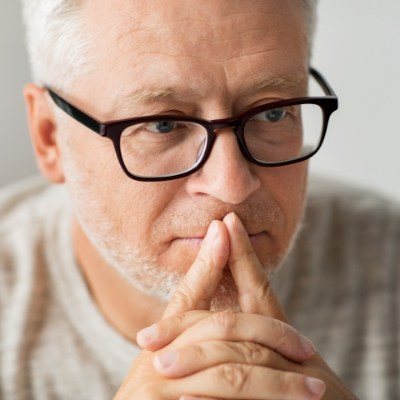 Whether you are missing one tooth, a few teeth, or even all of your teeth, dental implants may be the ideal solution for you. Most patients qualify for the procedure, either right away or after some preliminary treatments. And dental implants are successful in over 95 percent of cases! Our team is eager to get you on the road to once again having a complete, sturdy, and confident smile.
Who Is a Good Candidate for Dental Implants?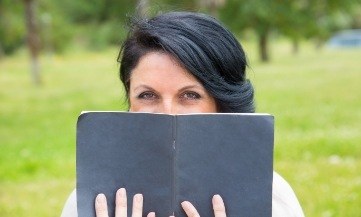 Some common traits of dental implant candidates include:
Fair oral and overall health – You should be free of active gum disease and be well enough to undergo minor surgery.
Adequate jawbone density to support dental implants – If it has been a while since you lost your teeth, your jawbone might have shrunk a little. A bone graft may be able to fortify it so it is healthy enough for your implant procedure.
Good habits – If you smoke, kicking the habit will increase your implants' chances of success. You should also be diligent about brushing and flossing.
Once we are sure that dental implants are a fit for you, we will start planning your procedure according to your circumstances and your level of tooth loss.
Missing One Tooth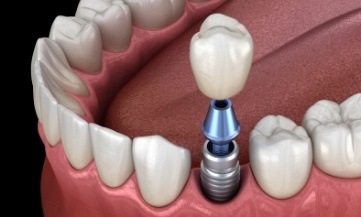 It is estimated that 178 million adults, including many young people, in the U.S. are missing at least one tooth. If you are among them, you may need just one dental implant to be inserted into your jawbone. After it successfully fuses with the surrounding tissue, we will attach a custom crown to it. This form of tooth replacement is sturdier and longer lasting than a traditional bridge. And since an implant is self-supporting, it is unlikely that we will have to modify any of the nearby teeth.
Missing Multiple Teeth
Trauma, genetics, and other factors can all lead to the loss of multiple teeth. If you are missing a few teeth in a row, an implant bridge may be right for you. This type of tooth replacement has a dental implant on each end, which support crowns. The crowns support one or more artificial teeth (called pontics) between them.
If the missing teeth are not consecutive, you might benefit from an implant-supported partial denture. A partial denture can replace multiple teeth at various places throughout a dental arch with the help of just a few strategically placed implants. Alternatively, multiple implant-supported crowns may be a fit for you.
Missing All of Your Teeth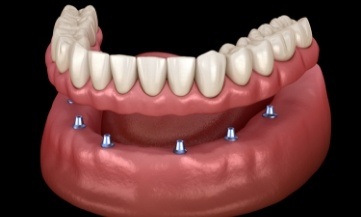 If you are tired of your traditional denture or know that you will soon undergo multiple extractions, don't hesitate to ask us about implant dentures. With just a few dental implants, we can support an entire arch of replacement teeth. Thanks to the innovative All-on-4 treatment, your dental implant dentist in Chesapeake might even be able to give you a brand-new smile on the same day as your implant placement surgery. All-on-4 treatment is popular because it is faster and requires fewer surgeries than traditional implant procedures.
Understanding the Cost of Dental Implants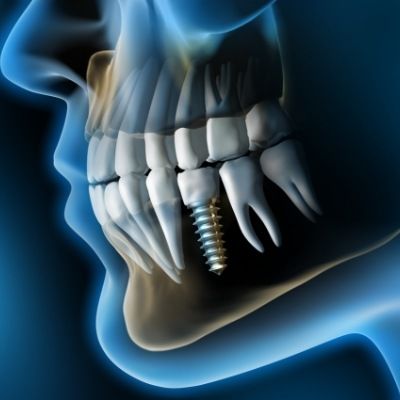 One of the things we'll discuss during your consultation is the cost of dental implants. The price of the procedure isn't set in stone; there are a lot of factors that can cause it to change, not the least of which is how many teeth are missing in the first place. We don't want you caught off guard when it's time to pay. We'll go out of our way to explain the different aspects of the cost to you, and we'll explain the options at your disposal that can make these payments easier.
Preliminary Treatments & Dental Implant Surgery
Certain procedures are often performed before dental implant surgery. This is because some patients might not be eligible for dental implants until a specific oral health issue has been addressed. For example, you might need bone grafting to reverse bone loss so that your jaw will support the implant posts. Many of these preliminary procedures are covered by insurance. As for the implant surgery itself, we'll let you know how sedation and the location of the implants will factor into the final cost.
The Parts of Your Dental Implant
The actual parts of the implants cover their own costs. As such, you will pay a different amount for implants depending on how many individual posts are needed, the kind of restoration required to replace every tooth in your mouth, the material used to make the implant post, and the brand of implant provided. You can talk to our team about the kind of implants we use and the benefits of selecting our chosen brand.
How Dental Implants Can Save You Money
Are you surprised to hear that dental implants can end up saving you money despite the fact they cost more than traditional restorations? This is because you need to account for the long term when thinking about implant costs:
Implants do not have be replaced or adjusted every 5 to 10 years, letting you save on appointments.
There is no need to buy the special pastes, cleanings solutions, and adhesives that dentures normally require.
Dental implants help prevent gum disease, tooth decay, and jawbone deterioration, meaning you can save money on additional treatments.
Does My Dental Insurance Cover Dental Implants?
That often depends on what you mean by covering dental implants. When it comes to the posts themselves, dental insurance typically won't pay for them, although exceptions do exist. However, you may still receive benefits to help cover the final restoration or associated preliminary treatments. If you're uncertain about what your plan will cover, bring your questions to our team.
Making Dental Implants Affordable
You can apply for a CareCredit financing plan that offers low-interest rates. This way, you do not have to pay for implant surgery or related procedures in a single chunk; the cost can instead be broken into multiple installments that fit more easily into your budget. Reach out to us today to learn more.
Dental Implant Technology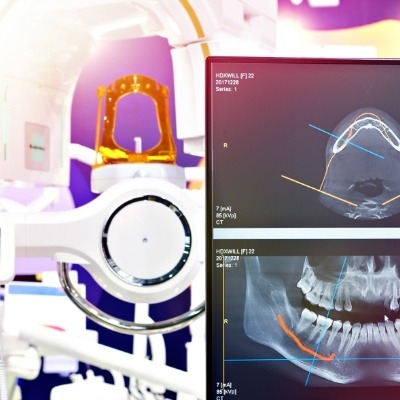 When it comes to your dental implant treatment, it is incredibly important that we take all the necessary planning and preparatory steps to gain as much information about your mouth as possible. Dr. Troisi remains dedicated to this process, and the technology she has introduced to the dental office as a result proves it! While you're welcome to ask us about our technology during your consultation, we encourage you to give our section on the subject a brief look for yourself!
3D Cone Beam Imaging/3D CT Scanning
Our cone beam CT (computerized tomography) scanner is much like an X-ray, but even more advanced. Not only does it capture highly detailed images of your mouth and underlying oral structures, but it's capable of producing a 3D image of your jaw too! The machine slowly rotates around the skull and takes hundreds of photos, then puts them back together like a puzzle. The end result is a 3D model of your mouth that can be further manipulated and examined for more accurate dental implant planning.
Part of dental implant surgery is understanding the location of sensitive areas like blood vessels, nerves, soft tissues, and craniofacial bones. By knowing exactly where these parts of the mouth are, we can avoid them during placement. It will also make treatment more precise, meaning the implant has as much bone tissue as possible to properly integrate with the jaw.
Guided Dental Implant Surgery
Our CBCT scanner can also be used to create surgical guides, which are used during the phase of treatment where the gums are opened, and the implant is placed. This guide allows us to perform a "simulated surgery" to better guide the implant as it's placed into the jaw. Guided dental implant surgery is particularly helpful during more complex cases where several dental implants need to be placed, but it's not so obvious where they need to go. With a computer-generated guide, we can better plan the surgery before it occurs, making it more predictable.
Furthermore, guided dental implant surgery also means a more precise treatment. That means patients can often expect aftercare that involves less bruising, swelling, and discomfort. This is especially beneficial when several implants are placed all at the same time.
Antibacterial Coating
One of the reasons dental implants are able to stay healthy and functional for so long is because they are able to integrate with jawbone tissue. The more successful this process is during the early phase of treatment, the better your dental implant's longevity will be. However, there are instances where oral bacteria, particularly the bacteria responsible for causing gingivitis, can reduce the implant's ability to heal and integrate. With a special antibacterial coating applied to the implant before it is placed, our dental office can effectively improve the healing and the integration of the titanium root.
Maintaining & Caring for Your Dental Implants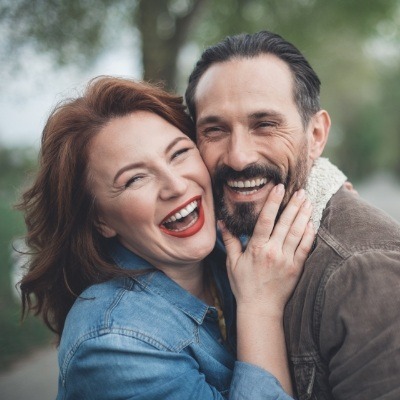 Dental implants are famous for their longevity and their high success rate. For many patients, their implants are as strong as ever even after 10 years with many more years of use ahead of them. Of course, just like with your teeth or any other kind of dental restoration, the mileage you get out of dental implants depends on the maintenance and care you give them on a regular basis. We're happy to discuss the best practices for implant maintenance once you've received your dental implant posts, so be sure to reach out if you have questions.
Make Oral Hygiene a Priority
You don't want the bad bacteria in your mouth to build up and start attacking the tissues holding your dental implants in place. As such, you should pay closer attention than ever to your oral hygiene routine. Brush twice a day for at least two minutes at a time, and use dental floss to clean the parts of your implant and your natural teeth that a toothbrush can't reach. We highly recommend using an ADA-approved mouthwash as well just to make sure you're getting rid of as many bacteria as possible.
Eat a Healthy Diet
You don't have to give up your favorite foods to protect your implants, but you should be aware of how much sugar you're consuming. Sugar is known to lead to various oral health problems, including those that could put your dental implants in jeopardy. Try swapping out candy and sweets for fruits, vegetables, and dairy products that are rich in nutrients such as calcium and vitamin C. This way, you can keep your gums and the rest of your mouth as healthy as possible, creating an optimal environment for your implant and restoration.
Break Bad Habits
There are plenty of bad habits that could end up damaging your implants. Smoking can lead to gum disease, which in turn can lead to implant failure. Biting or chewing on hard objects can put strain on your implant posts, damaging them over time. Using your teeth as tools can wear down your implant and the restoration it supports. The sooner you break these habits, the better off your implant (and the rest of your mouth) will be.
Protect Your Dental Implants
Have you been told that you grind your teeth at night? If so, you should invest in a mouthguard to wear while you sleep. This simple oral appliance will keep your dental implants and the rest of your smile safe from the damage that bruxism can cause.
Schedule Regular Dental Checkups
Don't forget to visit your implant dentist in Chesapeake every six months for a checkup. These visits allow us to look for small problems before they turn into full-blown dental issues that put your dental implants at risk. Taking care of these issues as early as possible is important if you want to keep your implants for as long as possible.
Dental Implant Frequently Asked Questions
By now, most people have heard about the many benefits of dental implants. But, unless you've already had the procedure done in the past, it's completely understandable to have a few questions about it! At Troisi Dentistry, we both place and restore dental implants in Chesapeake and have helped countless patients enjoy a full, complete smile after tooth loss. Below, you'll find answers to several dental implant FAQs, but don't hesitate to contact us if there's anything else you'd like to know.
I lost my teeth a long time ago and think I might have bone loss in my jaws. Will dental implants still work for me?
In many cases, yes! There are multiple procedures, such as a bone graft or sinus lift, that can restore your jaws prior to having implant surgery. While these procedures add several months to the total treatment time, they're well worth it because they allow people who wouldn't otherwise be good candidates to get dental implants. To determine whether you need one of these preliminary procedures, we'll closely evaluate your jawbone density with detailed images before making a recommendation.
Is dental implant surgery painful?
You'll be glad to know that dental implant surgery isn't nearly as painful as people expect. In fact, if you've ever had a tooth extraction, you can expect about the same level of discomfort. In addition, rest assured that we make your comfort a top priority and will completely numb the area before we begin. We also have sedation options so that even anxious patients can comfortably get dental implants.
How quickly will I heal after the dental implant procedure?
Most patients have swelling and tenderness in the area for anywhere from three to seven days. This is easily managed with over-the-counter pain medication and good aftercare at home (we'll discuss instructions in detail at your visit). And since the first two or three days typically involve the most discomfort, it's a good idea to take that time off from work.
Can my dental implants fail?
Your dentist in Chesapeake thrilled that dental implants have a success rate of over 97% (for non-smokers). But, while your implants can't get cavities, they can fail for other reasons:
Gum disease– Implants are similar to the rest of your teeth because they must be surrounded by healthy gum tissue for strength and support. If you develop gum disease around an implant, it's at risk for becoming loose and failing at some point.
Poor oral hygiene – By getting professional cleanings every six months and brushing and flossing daily at home, you'll keep your implant clean and healthy.
Smoking – Since smokers aren't always able to heal properly after implant surgery, their success rate is significantly lower at around 85%.
Clenching and grinding– If you clench and grind at night, it's a good idea to wear a nightguard to protect your implant.
At Troisi Dentistry, we are more than happy to help you with whatever you need to achieve your healthiest and most beautiful smile. We are well-qualified to place and restore dental implants in Chesapeake and even save a malfunctioning implant whenever we can. Don't hesitate to reach out to us if you suspect you have a problem with your implant.